The Finnish Archipelago Sea is among the greatest areas in the world for self-guided multi-day sea kayaking adventures. With its thousands of wild islands perfect for camping, sheltered waters and the Archipelago National Park providing a unique possibility to experience silence and vast areas without encountering people, you will fall in love with this exceptional area.
A maze of islands as far as the eye can see and much beyond. Silence, wilderness, sheltered mirrored waters. Sculptured by the latest ice age into 40.000 islands and skerries, the Finnish Archipelago Sea is one of the world's big wonders. Finland's Everymans' Rights offers uncountable possibilities to find your own wild island to camp on. This guided tour takes you, together with a small group of two to seven persons, to the most stunning parts of the area, offering an amazing journey into the Finnish archipelago nature and culture. Our three day Hidden Gems expedition has been awarded with numerous international and national rewards for it's quality, sustainability and great reviews it has received, among others the Baltic Sea Region countries' Tourism Forum award for the most sustainable product and Visit Finland's Authentic Experience top award.
Tour Overview
This adventureous three day sea kayaking expedition offers an unique possibility to explore the wild and beautiful Finnish Archipelago National Park together with our nice and professional sea kayak guide. We customize the days according with the group and the weather. Experience island hopping exploring wild islands, dive into the archipelago culture visiting island villages, swim in the sea and find amazing sites to set camp on. Families with children, beginners wanting to take it slow and easy and more experienced kayakers alike have all loved this expedition each time.
Experiencing the Finnish winter from a sea kayak is thrilling and unforgettable! This tour takes you to the unique southwest archipelago of Finland, the biggest and in our opinion most unique archipelago in the world.
The tour will be adjusted to your experience and expectations, and is arranged on request.
Experience the Finnish Archipelago Sea by Sea Kayak! This tour takes you to the unique southwest archipelago of Finland, the biggest and in our opinion most unique archipelago in the world.
The tour will be adjusted to your experience and expectations, and is arranged on request.
Over 50.000 islands, rocks and skerries
Our main playground and extraordinary haven is the Finnish Archipelago Sea, the largest archipelago in the world with its around 50.000, often tightly clustered, islands. We have been arranging sea kayaking tours in the world's greatest sea kayaking destinasions around the globe since 1995, but still our own Archipelago Sea is the most special area for us, and extraordinary area which we love to take our customers to.

The Archipelago Sea (Finnish: Saaristomeri, Swedish: Skärgårdshavet) is a part of the Baltic Sea between the Gulf of Bothnia, the Gulf of Finland and the Sea of Åland, within Finnish territorial waters. The size of this area is over 8000 square kilometers, of which 2000 square kilometers is land. A massive amount of these islands are uninhabited, a fact which together with the Everyman's rights giving visitors the right to camp on and visit almost every island, makes this area a very unique place for wilderness enthusiasts.
While the salinity of the sea water in the Northern Sea is around 3,5% the innner Baltic Sea including the Archipelago Sea has a very low salinity level, around 0,5%. Because of this, the water is perfect for swimming in and even for using when cooking food, although a tiny bit too salty to use as drinking water. The low salinity level affects the water fauna also: Here you find fishes that in most other parts of the world are specific for lakes: Perches, pikes, baltic herring and whitefish are caught a lot. Salmon can also be caught even if they are not as common to get. For fishing with a casting rod or nets, you need a fishing permit (no permit needed if you are under 18 or over 64 years old). More about the permits and an on-line store for them can be found here.
Water, wind and tides
The water temperature in the archipelago varies a lot. During winter, the sea freezes and where there is no ice, the surface water temperature is only 0 degrees centigrade. During spring, the water temperature quickly rises, and in June to August the water temperature climbs close to or even above 21 degrees centigrade. In late October, the water temperature is back at below 10 degrees centigrade and going downwards.
Because the Baltic Sea is relatively small and acts as a closed basin with only a narrow entrance to the west, the total tidal height difference in the area is under three centimeters. Passing low and high atmosperic pressures can, however, change the water height in the archipelago, but not more than +-40cm during even a quite extreme day. Do lift your kayak up on dry ground properly during nights still, in order to avoid nasty surprises in the morning.
The Archipelago Sea is well protected from extreme wave buildup even in harsher wind conditions, but on more open straits, up to one meter high waves can be encountered on very windy days, much more during storms. In big parts of the inner archipelago area it is easy to find shelter for for waves by planning the route well. The area is rarely hit by high wind speeds during summertime (approximately one day out of twenty). However, sea breeze develops on sunny days in May and the beginning of June due to cold waters and warm land masses, and this can cause southerly to south-westerly winds with wind speeds up to 10 m/s some days. Such days it is still easy to find shelter amongst the islands. From late September to November, low pressures press through to the Baltic Sea, causing windy days much more often than during summer. During kayaking expeditions, do follow the weather forecasts each day, and never leave the very close vicinity to the beachline if you are not compleately sure you can handle the conditions. We have collected the best weather forecasts for the are and you can find them under Weather and Maps above.
Summers in the Archipelago Sea are sunny and mostly perfectly warm, with day and nigh temperatures varying between 16 and 25 degrees centigrades in mid-June to late August. The midnight sun lights up the archipelago around the clock especially around midsummer, while a headtorch is needed from late August onwards if you want to wander around in the night.
Culture, Everyman's Rights (The Right to Roam) and firemaking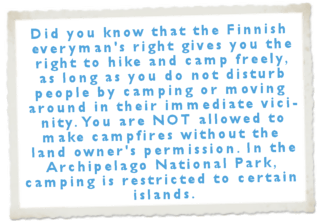 We work in a close cooperation with the islanders living in the Archipelago Sea, and on our tours, you will get an insight in the archipelago culture and lifestyle.
Some of the larger islands in the Finnish Archipelago Sea are inhabited and a few of them are connected by ferries and bridges. The Archipelago Sea is a significant destination for visitors wanting to experience the wilderness, beauty and culture of the area. Together with the everyman's rights concerning camping and moving around almost anywhere where you do not disturb others makes this is a great destination for outdoor and nature enthusiasts.
The Archipelago National Park area includes thousands of wild islands but also privately owned islands with cottages on them. On the islands which are part of the National Park itself it is allowed to camp only on designated places for camping. You can find the places in question on the digital kayaking planning map that Aavameri supplies all guests with. The planning map also includes places for water refill, shops, ferry ports and more. On privately owned islands, it is allowed to camp according with the everyman´s right. You are NEVER allowed to make campfires without an explicit agreement from the land owner except for on designated fireplaces in the Archipelago National Park on days without a forest fire warning active. Forest fire warnings can be checked by pressing here. Remember that the island nature of the archipelago is very sensitive, never litter and always dispose of the waste created during your expedition when you get back to waste collection systems!
Wildlife
The Archipelago Sea with its varying nature offers a unique and diverse environment for wildlife. While the islands closer to mainland are often covered by forests, the outer archipelago consists of islands with very sparse or no growth at all. Sea eagles of the White Tailed Eagles (Haliaeetus albicilla) species are something that you often spot both far and close.

There are three species of seals in the area. The Grey Seal (Halichoerus grypus) is the largest seal in the area. The males can become up to three meters long and weigh up to 300kg. The Baltic Ringed Seal (Phoca hispida) is a much smaller seal which rarely gets bigger than 150cm or 110kg. The Common Seal (Phoca vitulina) is very rare in the Archipelago, and more of a visitor. Because of the low salinity of the Baltic Sea, the fish species mostly consists of fish you would expect to find in lakes, with salmon and pike being the largest species you would catch.
Navigation
Navigating amongst the thousands of islands of the Archipelago Sea can feel like a challenge in the beginning. Aavameri has very good topographical sea charts to rent to all our visitors, and with a little training you will soon start noticing that each island is different and that it is not that hard to find your way. During the 3-4 hours Basic Safety Training course that we demand of all our self-supported expedition visitors who are not proficient with deep water sea kayaking rescue skills, menuvering techniques, sea safety, bracing or navigation and to everyone ordering the course we teach tips and tricks for so called handrail navigation, a great way to find your way in the archipelago.
Safety in the archipelago
Although the archipelago is mostly well sheltered from the highest wind-speeds and from big waves, these do occour, and we do not rent equipment for unguided tours to people not competent with kayak rescues and manouvering techniques. The water temperature vary very much (read more above), and during spring and fall, it is essential to be well protected while on the water for safety reasons (we do have dry-suits for rent).
In our area, there are no poisonous or otherwise dangerous sea animals. On some of the islands, vipers (vipera berus) which is Europe's most common poisonous snake, can be found. Bites from these are very rare, but could be dangerous and a doctor should always be contacted immediately if bitten by one (the last fatal snake bite in Finland happened in 1998, but it is worth being careful).Vipers are very frightened of people, and as long as you do your presence known and avoid the only places between stones where they can hide, it is very rare to see them. Ticks, possibly bearing borrelia and tick-born encephalitis, are found on some but not all islands; avoiding walking in high, especielly wetland grass, and/or checking your body for these in the evenings is recommendable. This said, the Finnish nature is the safest or one of the safest countries in the world also from the aspect of dangers in nature.
More about the Archipelago Sea and Baltic Sea region:
The outer archipelago sea is filled with thousands and thousands of small skerries, ... ..
Vänö is an island with a long history. Already on the 14th century it is known that Vänö had a fishing population, with a village situated on the same spot as the village today. Selling of and trade with baltic herring has been an important part of life on Vänö, with fishermen travelling in to Salo with the fish, trading it in for grain and money. During the winters, seal hunting was an important way to get food and money from selling fat and product made out of the skin.